About Us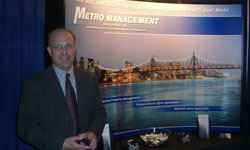 At Metro Management we believe that every aspect of property management must be conducted with the highest quality standards. Metro Management Development, Inc.'s working Principal, David Baron has nearly 30 years experience in the field of cooperative, condominium and residential housing. Metro presently manages over 35,000 units throughout New York City and Long Island.
Metro Management specializes in the portfolio and on-site management of Coops, Condos and Cond-ops throughout the metropolitan New York City area. Our managed properties include:
Cooperatives
Condominiums
Cond-ops
Mitchell-Lama Cooperatives
Luxury Residential & Rent Stabilized Apartments
Affordable Housing
Senior Citizen Housing
Metro has earned a solid reputation for delivering the highest standards in residential property management. We are known for our extensive experience, our attention to detail, and our unsurpassed level of customer service. Our property managers are among the best in the industry. They join Metro with exceptional experience and proven management skills. Our back office, headed by Metro's Director of Finance, Victor Fuerst, possesses the technical ability to analyze any financial matter, with state of the art computerized record keeping, and advanced financial reporting systems. We provide comprehensive monthly financial reports that summarize a building's revenues and expenditures against its budget, immediately alerting the reader to any variances.
To learn how Metro Management can benefit your property, please call David Baron, Principal, at 718.706.7755 ext.8901 or email to dbaron@metromanagementdev.com